The Best Keyboard Shortcuts you Probably Aren't Using!
Keyboard shortcuts are an amazing way to save time and stay productive. They can also be hard to keep track of. If you know them, they can make you a powerhouse on the computer. You'll also watch other people struggle and be able to drop this knowledge on them! Here are some of the most useful you can find that you might not know about!
Command + Shift + V: This first one is super useful for when you are typing a document, an email or an online form, and you want to transfer over some info from another source with totally different formatting. Instead of pasting the words, then reformatting it, you can just press Command, Shift, and V all at the same time to paste the words to match the destination's formatting. That means whatever you paste will fit seamlessly into your document. For PC users, you can do the same thing, except you'll use Control, Shift and V to do this. For a lot of these shortcuts, you can just modify Command to Control and vice versa to accomplish the same thing on Mac and PC. Some are different though, and I'll be sure to point them out for you!
Command + Left or Right: You can also use some awesome shortcuts to navigate your way around a document. To get to the beginning or end of a line, you can use command plus the left and right arrows to get around a whole lot easier. On PC, things are a bit different here. To navigate to the beginning and end of a line on PC, you're going to want to press Control plus the "home" or "end" buttons to get you there. You can still use Control and the left and right arrows on PC, but instead of going to the beginning or end of a line, you will be able to navigate word by word. To accomplish that same thing on PC, use Option plus the arrows to navigate word by word.
Option + Delete: Did you just totally jumble the last word you typed? It's okay, I promise. On Mac, you can just type Option – Delete to get rid of the whole word, and on PC, you can type Control – Delete. On Mac, you can also delete a whole line using Command – Delete. Deleting whole lines is a bit more confusing on PC and can be done a few different ways, so I'll leave it to you to decide.
Command + Z: You know when you put a photo into text and it completely messes up the whole document? Deleting it doesn't help, and trying to reformat can make things even worse. Or, maybe you just deleted a whole paragraph and are experiencing instant regret. For these situations, and sooo many others, this shortcut is one of the most useful of all. Just use Command-Z to undo! And if you decide you really didn't want to undo it, just press Command-Y to redo. This one is the same on PC, just with Control instead of Command.
Command + Shift + T: If you're clicking a ton of different stuff while using your browser, I hate to break it to you, but you're doing it wrong! Browsers are the perfect place to be using keyboard shortcuts. For instance, if you want to open a new tab, don't even bother with that little plus sign anymore. Just type Command – T or Control – T to open a new tab! How about when you have a bunch of tabs open, and you just want to clean up your desktop. So, you decide to just close a bunch of tabs. But whoops, you just remembered you had something super important that you accidentally closed. That's okay! Just type Command-Shift-T or Control-Shift-T to reopen a recently closed tab. This one is also super useful if your browser crashes or you close the whole thing. Just reopen the browser, and type Command or Control-Shift-T to reopen all your lost tabs. The day is saved!
Command + D: When you come across a webpage you love, you can always click the star, but who has time for that? Just type Command-D or Control-D to bookmark the page so you can get back to it easier in the future! Now, what about when you go to a page and it loads terribly? Missing photos, or there's an annoying ad on it that's just totally ruining the user experience. Just use Command-R or Control-R to reload the page!
Command + Tab: If you're using a browser, editing a document, using a messenger, writing a presentation, and looking at the pictures from the weekend? Well, first, you're doing a whole lot! And I find myself doing this all the time. Well, instead of clicking on the dock to navigate through the numerous programs you have open, you can just type Command-Tab or, on PC, Alt-Tab to switch through them! This one saves me a ton of time when I'm trying to copy and paste things, or reference back to another program when working on something.
Command + Enter: Our final shortcut is one that I hope is common knowledge, but if you don't know it, you might be wasting tons of time! You've typed out the perfect email, and you're ready to send it. Or, you wake up to a bunch of new emails and you have no idea how you're going to get through them all. Well, instead of using the mouse to click send for every email you send, just type Command or Control-Enter to send! An added bonus to this one is that when you type out that killer email and you send it, you can just send it right away and feel instant gratification from pressing enter to send it! No more typing it up, and getting no gratification because you had to find your mouse and hear a tiny little click when you click send.
Hopefully these keyboard shortcuts save you all the time you need! If there's anything you're doing that's taking way too much time, you should search to see if there's a shortcut to help! We covered some of the best, but we definitely didn't cover all of them here, and there a few that I use every day that I couldn't fit in here. Keep looking for ways to get more productive, get more clients, and make more money!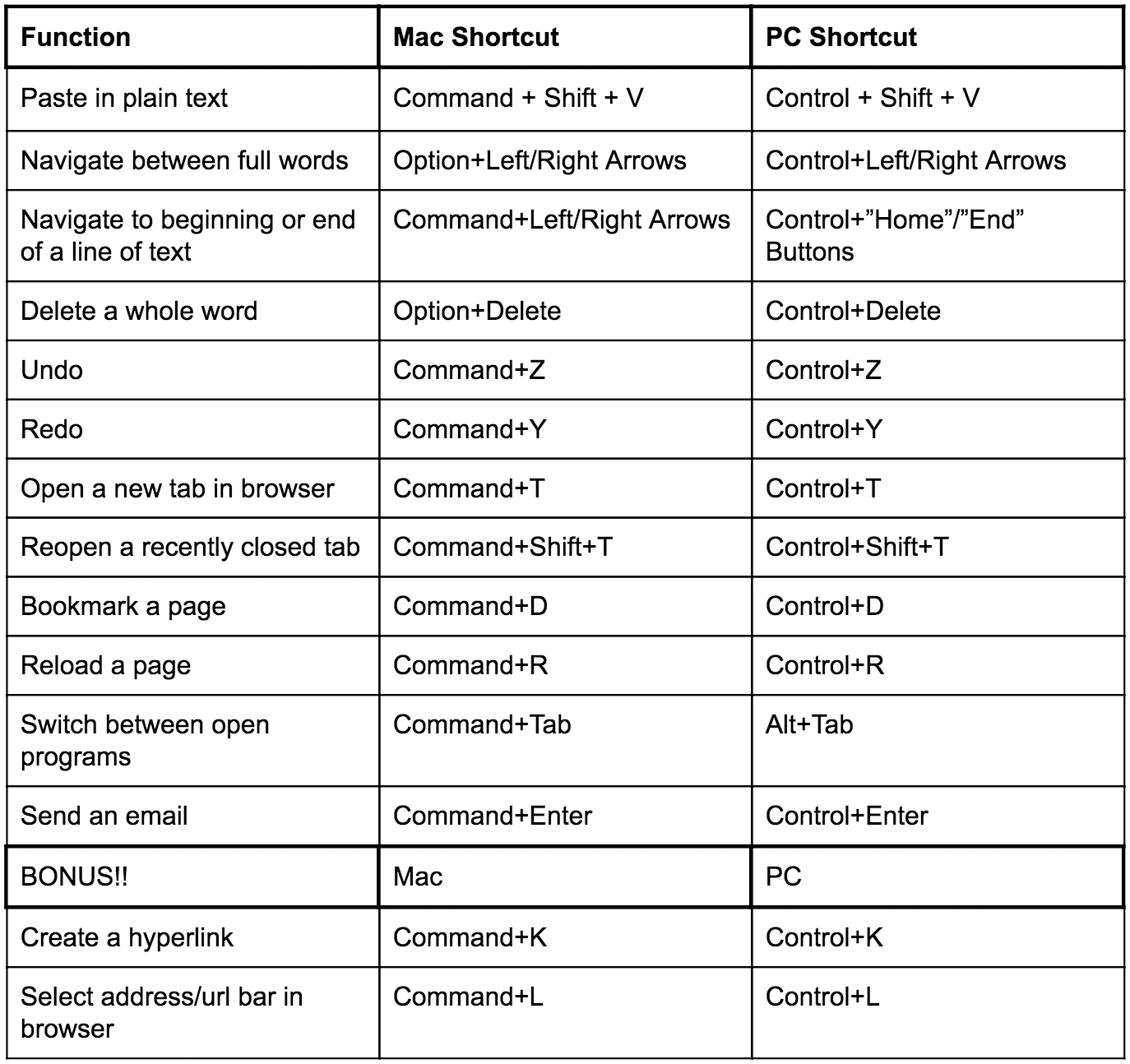 Download OurDigital Trends Presentation Video and Slides
If you'd like to be really productive with your time, you need to get your digital marketing to start making money for you! Give me a call to find out how to make that happen and stay ahead of the competition by checking out our Digital Marketing Trends Presentation and Slides, where we'll tell you everything you need to know to be competitive in digital marketing in 2017!
Click here to download the slides + video from our Digital Trends workshop!