To Command Higher Prices,
You Must Look The Best
If your online marketing is bringing in pain-in-the-ass prospects with no budget, it could be the fault of your website.
>>>Cheap-Looking Design Brings in Cheap Customers <<<
This is especially true if you sell a design service, such as landscape design, custom jewelry, or kitchen/bath/home remodeling. People are hiring you to make their home or personal appearance look better. If your website doesn't inspire confidence that you have design skills, you're toast.
Similarly, if you look cheap  -- like with an old, out-dated, clunky website -- and someone thinks "Oh, good, they look cheap!," you're going to have a lot of no-good tire-kickin' yellow-bellied price shoppers eating up your time "collecting some quotes."
Let Us Help You Get Results Faster Than You Could On Your Own
Establish a Strong Foundation of Digital Marketing that Grows with Your Business for Years to Come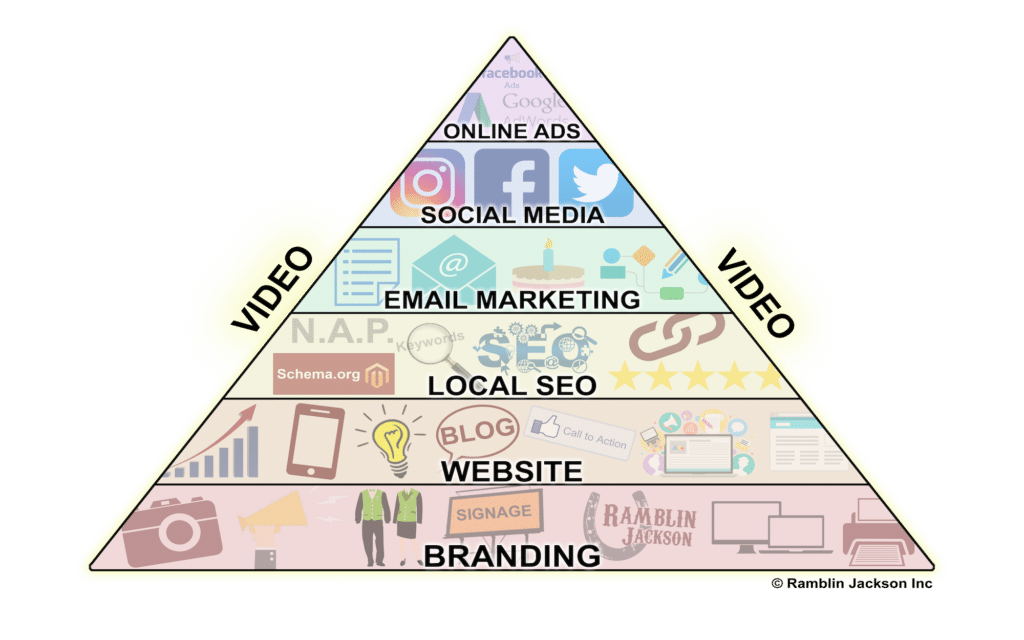 Growing Your Business with Digital Marketing is a lot Like Building a House
As with any structure, you must have a strong foundation before you can get to tasks like painting your walls or choosing matching kitchen appliances.
Similarly, with digital marketing, once your foundational elements -- like your branding, website, and Local SEO -- are solid, you can really scale with other aspects of digital marketing, such as email marketing, social media, and online advertising. If you skip building the foundation, however, the structure will crumble.
Here is a case in point: To get traffic and sales quickly, many businesses take shortcuts by investing a lot of money in Google Adwords or Facebook ads, which can work well while the ads are running. But once the ads stop running, the customers stop coming. That's not what building a strong foundation is all about.

Marketing Services for Local Businesses Throughout the Country
High-quality Search Engine Optimization (SEO) helps search engines, like Google, Bing, and Yahoo, find your content online. We work with companies to optimize their website content – all web pages, blog posts, press releases, and more – to improve their position in search ranking results.
When your customers are in your neighborhood, town or metro area, you need them to know where you are, what you have to offer, and how to buy your products and services. Our Local Search Marketing uses proven strategies and techniques to get your local business found online and get those new customers giving you a call, emailing you or stopping by your store.
The star of your business marketing efforts is your website. Make sure your website looks good, responds no matter how a customer is viewing it and is something you're proud of. Every day we create websites that companies love.
Our creative services not only design sites that look great for your business, but we create easy-to-use websites that you and your team can learn to manage.
As more than half of people will view your website on their mobile device, it's critical your website is responsive or designed for mobile devices. Our design process builds sites that adapt and resize content and layout so you can rest assured your business is looking its best.
Adding video to your website is one of the best things you can do to help people find you online. We are experts in creating promotional videos, testimonial videos, event videos, and more. From scriptwriting and storyboarding to production and editing, we do it all to get you in the spotlight!
Professional photos of your team, business, products and services in action make the best first impression for your business. Once we've got customers finding your company online, make sure you look like the pro you are to ensure you get the sale!
Our digital marketing services take a go-get-em approach that will attract more leads, raise awareness of your brand, and help your company thrive.

Peace of Mind for You & Your Company
Ecoscape Environmental Design has been collaborating with Ramblin Jackson for many years; their SEO work & web maintenance service, means peace of mind for our company. They are great at keeping us abreast of the ever-evolving digital marketing arena too."
- Karina Zedalis, Landscaper, Ecoscape Environmental Design
The Plan to Increase Your Sales from Your Sales and Marketing
Here's how we'll help you dominate your market
1 - Marketing Strategy Meeting
First, we'll talk for a few minutes on the phone. If there's a potential fit, we'll schedule a Marketing Strategy Meeting -- a phone or video conference with your Business Development Consultant who will help you identify gaps in your business development and sales strategy.
If we both agree it makes sense, we'll offer a paid Digital Marketing Audit and Plan
2 - Digital Marketing Audit + Plan Presentation
We'll send over a few questions, analyze your online marketing, and prepare a custom Digital Marketing Audit with recommendations on how to improve your business development and digital marketing. This is not automated - but crafted with real marketing value.
We'll meet with you for about two hours to review our findings of the Audit, and together we'll craft a Digital Marketing Plan with a Strategy and Roadmap to fix your marketing issues once and for all.
If you like the Plan, we'll move on to:
If we both agree it makes sense to pursue our Plan, we'd move forward with a Project Kick-Off with your Project Manager. We have a proven project management process to help you Get It Done Right The First Time and Maximize Your Time.
With Ramblin Jackson on your team -- you can focus on selling and running your company while we do the digital marketing stuff you don't want to do.
Our process is designed to Save You Time. Listen, we value your time -- we even have a Beef Jerky Club where we'll promise to Be On-Time & Prepared To Add Value or we'll send you Beef Jerky in the mail! For real.
Schedule Your Marketing Strategy Meeting
If you're ready to improve-and-forget your website or you are considering a digital marketing agency, contact us to schedule a Marketing Strategy Meeting to explore how we can help you grow your local business, just like we've helped more than 300 other companies!
Email us at info@ramblinjackson.com or call us at (303) 544-2125 to get started! We Aren't for Everyone
Due to the competitive nature of landscaping and home service businesses, we take on a limited number of clients in each local market -- and only customers who we can really help.
Will digital marketing even work for you? If not, we'll tell you!
Save time and get an immediate answer to see if you qualify for our proven process when you take the quiz.